At Duston's Market, Bakery & Deli, we strive to make your event stress free and enjoyable! We appreciate at least 48 hours on all orders. Call us today at (603) 742-2506 to place your order.
From the Deli
Meat Platter
Ham
Roast Beef
Turkey
Swiss
American Cheese
Large serves 26-30
Small serves 12-15
Let us know if you need a side platter?  Lettuce, Tomato & Pickle
Antipasto Platter
Salami
Cappy Ham
Fresh Mozzarella
Roma Tomatoes
Artichokes
Garlic Olives
Pepperoni
Cheese Platter
Swiss
Havarti
Cheddar
Jalepeno Jack Cheese
Colby
garnished with Grapes & Crackers
Large serves 25-30
Small serves 12-15
Veggie Platter
Celery
Carrot
Broccoli
Peppers
Cauliflower
Cucumber
Cherry Tomatoes
Veggie or Onion Dip
Large serves 25-30
Small serves 12-15
Filled Finger Rolls
Mini Italians
Chicken
Ham
Egg
Tuna
Seafood Salad
Per Dozen
Chicken Sampler
Fried Chicken Tenders
Wings
Jalepeno Peppers
Cheese Sticks
4 types of sauces
Serves 15-20
Pickle & Olive Tray
Dill Spears
Sweet Mixed
Green & Black Olives
Pepperoncini
Serves 8-10
Fruit Platter
Small
Large
Veggie & Cheese Combo Platter
Small serves 12-15
Fruit & Cheese Combo Platter
Small serves 15-20
Wrap or Sub Platter
Wraps and Subs are priced individually; Please inquire
Fiesta Dip
Layered dip with Avacado, Salsa, Sour Cream, Onions & Peppers
Serves 8-10
Tortilla Chips & Salsa or Dip
Homemade Tortilla Chips – Cinnamon or Seasoned
Bread Bowl & Dip
Homemade Sourdough Bread Bowl served with your choice of Duston's Dips (8oz or 16oz):
Artichoke & Sun-dried Tomato Dip
Roasted Red Pepper & Feta Dip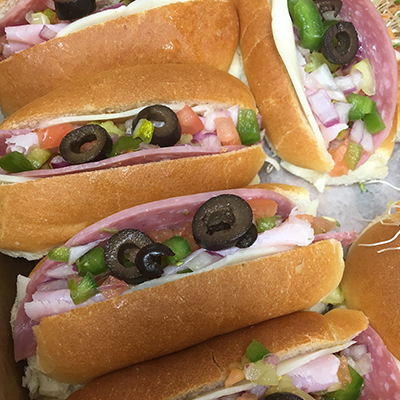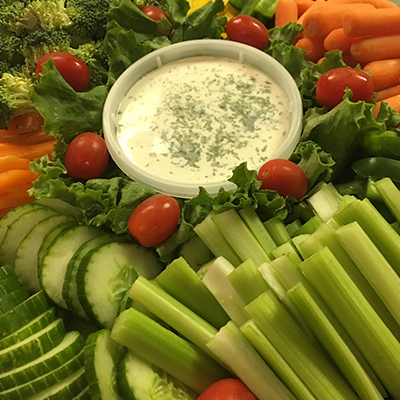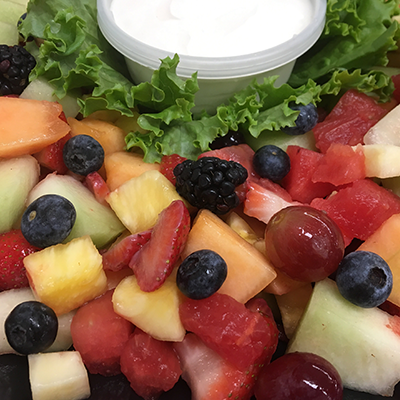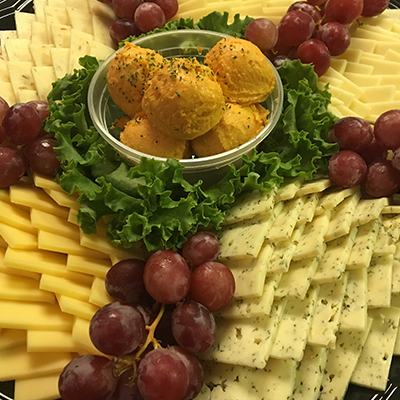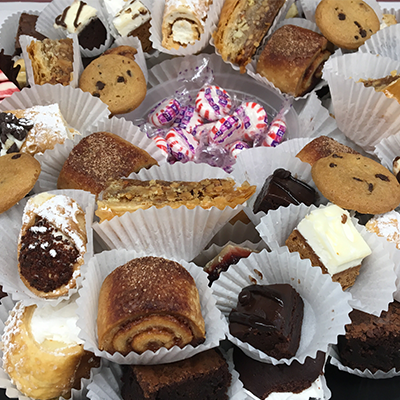 Breakfast Platter
Breakfast pastries including:
Donuts
Danish
Bagels
Scones
Mini Muffins
Large serves 18-24
Small serves 8-12
Dessert Platter
Assortment of pastries baked from our in-store bakery:
Cinnamon Sticks
Brownies
Fruit Squares
Whoopie Pies, etc
Large serves 40-45
Medium serves 25-30
Small serves 12-15
Pies
All our pies are made in house with the freshest ingredients!
Apple
Dutch Apple
Blueberry
Cherry
Custard
Coconut Custard
Fruits of the Forest
Lemon Meringue
Mince
Peach
Pecan
Pumpkin
Strawberry Rhubarb
Boston Cream
Banana Cream
Chocolate Cream
Coconut Cream
Key Lime Pie
Meat Pies
Pork Pies – 8″ or 10″
Chicken Pies – 10″
Coffee To Go
Two pots of fresh brewed coffee(your choice). Also, includes:
10 cups
lids
cream/milk
sugar
stirrers
Serves 10